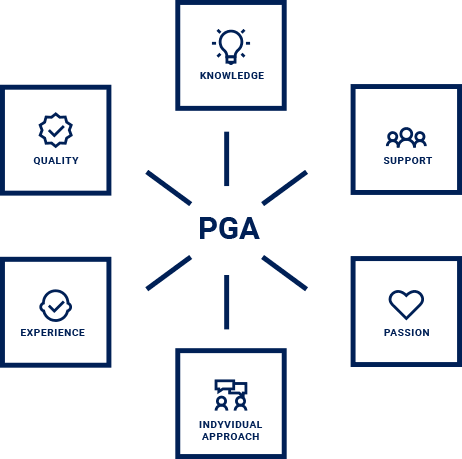 We are a group of professional Polish audit, accounting and consulting firms that have formed a team of experienced certified auditors, accountants and consultants
The PGA experts gained their experience working e.g. for the largest international consulting firms that set the practical standards of audit and consulting (the so-called "Big Four") but also on the other side, as managers and directors of finance departments at Polish and international companies. This way, we understand the business and needs of our Clients and offer them individually tailored services.
We offer our Clients top quality, optimized and complex services in the area of audit and other procedures performed by the Certified Auditor, accounting and consulting, based on individualized understanding of the Client's business and needs and on Client-friendly terms.
01.
We understand your needs and we individually adjust our services.
Our core team consists of people who have a broad experience in the biggest international audit and consulting companies (the so-called Big Four such as KPMG, PwC, EY, Deloitte), as well as in business on managerial positions in financial departments of Polish companies and multinational corporations. Thus we have an experienced approach to auditing and also to advisory services on both sides and we thoroughly understand your individual expectations.
02.
We use the best practices developed by companies developing the best standards in the world of audit and advisory services on convenient terms.
We have gained our experience through providing audit and advisory services in various areas such as, most of all: commerce / FMCG / manufacturing / real estate / services / pharmaceutical industry / mining / environmental protection / electronics industry / new technologies / public benefit and non-profit activity.
We also provide, among others, transaction advisory services (due diligence, business valuation) for PE/VC funds that invested either in mature businesses or start-ups. We are also experienced in audits of projects financed by UE funds.
We offer you services at the highest international level and on convenient terms.
03.
We cooperate with experienced tax advisors, legal counsels, financial institutions and companies that help in gaining UE funds.
We closely cooperate with renowned tax advisors and legal counsels and therefore are able to provide complex services. Our cooperation with tax law business law specialists gives our Clients an opportunity of a direct access to various tax services without the need of engaging additional parties and entities.
We cooperate also with many financial institutions (investments funds, brokers, brokerage houses) as well as companies that help in gaining UE funds.
We facilitate our Clients' access to fast and reliable debt (including financing of commercial bond issues) and capital financing (M&A).
04.
We provide technical support and are ready to answer any of your question
Within the price we provide you with the constant consultations. In the case of complex and unambiguous transactions requiring more thorough analyses, we will carry them out for you and present possible solutions to the problem.
We offer you services at the highest international level and on convenient terms.
COMPLEX SERVICES OF THE PGA GROUP
We cooperate closely with experienced tax advisors and legal counsels, and can therefore offer complex advisory services comprising legal and tax support among other things.
Owing to our cooperation with such experts, our Clients gain direct access to a variety of tax advisory services and legal services for enterprises instead of involving additional parties and entities in their matters.